The shipping berths 5 and 6 in the Shatian Zone, the first 50 thousand-ton grade berth project in Humen Port, Dongguan were opened on November 18. This means that the import and export enterprises based in Dongguan no longer need to make costly detours through Guangzhou Port, Shenzhen Port or Hongkong when trading their commodities. The experts predict that the container transport service alone in the new berths will save 500 million to 600 million RMB in physical distribution cost for enterprises of Dongguan. The annual taxation income will exceed 50 million RMB.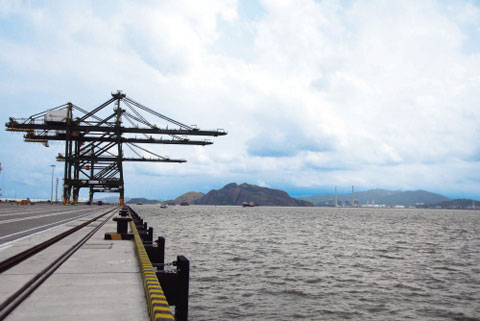 The quay-side container crane in berths 5 and 6 in Humen Port are now in operation. (www.dgtoday.com.cn)

As a First-class National customs ports and the sole port servicing Dongguan, Humen Port has so far invited 36 investment projects with the capital amounting to 29.5 billion RMB. It is predicted that eleven more berths with the same grade as berths 5 and 6 will be constructed and put into use by the year 2010. At that time, the port will handle an additional 50 million tons of cargo and its designed container handling capacity will reach 70 million ton. Humen Port will become a truely world-class port.

This project has been completed in Xi Datan Management Zone of Shatian town in Dongguan City. Its structure is designed to allow for a 35000 DWT Container ship to berth. Its land area covers 483 thousand square meters (including prearranged area), building area 21.479 thousand square meters and loading area 88.395 thousand square meters. The total amount of investment in this project reached 1.2 billion RMB.


Since the opening of the shipping berths 5 and 6, the import and export enterprises in Dongguan and neighboring areas are forcast as the biggest beneficiary, which means at least 10 thousand scaled foreign trade enterprises will benefit from it. The first major benefit is that there will be a significant saving in logistic costs. On the other hand, the opening of the two shipping berths will alleviate the unreasonable structure of shipping berths that has confronted Dongguan¡¯s Humen port in recent times.

According to Liu Minhua, the Manager of PAS Dongguan Container Terminal Co. Ltd, now the difficulty facing them is to change the clients¡¯habit to use other ports. ¡°We need to prove ourselves to cargo agencies and ship agencies with our hardware and software resources.¡± Said Liu.

The new ports will also bring social benefits to enterprises in Dongguan. Production service industries such as logistics, finance, information, and law as well as a modern living district have been planned for the surrounding area. Meanwhile, the port economy will also enforce the development of Western Dongguan, the coastal industry belts and improve the competitiveness of surrounding towns and districts.


Editor: canton fair