China's auto makers are seeking government aid and lower sales taxes to help revive demand in the world's second-largest vehicle market.

"The situation is really severe," said Zeng Qinghong, general manager of Guangzhou Automobile Group, a partner of Toyota and Honda, at the Guangzhou auto show. "We hope the government can introduce policies to stimulate demand."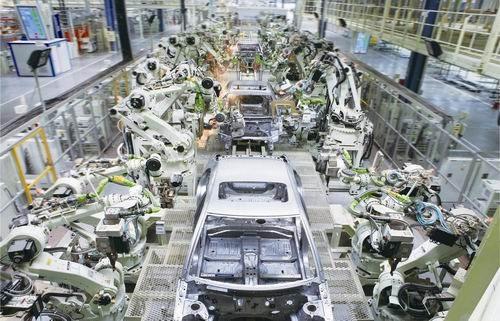 A production line of Guangzhou Toyota Motor Co., Ltd. (GTMC) (Pcauto)


Chinese makers join counterparts in the United States and Europe in asking for government help as the global recession may stunt sales growth to 5 percent next year, compared to last year's 22 percent, Bloomberg News said.

Slower China sales would also hit overseas auto makers as they are banking on emerging markets to offset waning demand elsewhere.

"Chinese auto makers do need government's help to survive the turmoil," said Zhang Xin, an analyst at Guotai Junan Securities in Beijing. "There aren't any policies yet for stimulating vehicle consumption and auto makers need to shout louder to get the government to provide incentives."

Slowing demand and rising competition has caused SAIC Motor Corp, the nation's biggest domestic auto maker, to tumble 77 percent this year in Shanghai trading. It rose 7 percent yesterday to 6.13 yuan (89 US cents). Dongfeng Motor Group, the largest Hong Kong-listed maker, fell 7.7 percent to HK.57 (20 US cents), extending losses for the year to 71 percent.

Sales taxes currently account for as much as 50 percent of vehicle prices. The government is considering lowering sales taxes on alternative-energy vehicles to spur demand, Chen Jianguo, of the National Development and Reform Commission, said earlier this month. The government's 4-trillion-yuan stimulus package may also help, said Winfried Vahland, Volkswagen's China head.

Car sales have surged fivefold in China over the past eight years but current concerns have reduced people's willingness to buy.

Still, overseas makers believe the home market will eventually recover and are pushing ahead with expansion. Toyota will open a second production line at its venture in Guangzhou next year and Volkswagen's venture with China FAW Group, the country's second-largest auto maker, has agreed to buy a plant to add capacity.


Editor: canton fair