The ceramics industry in the Guangdong province city of Foshan was once a thriving business in the early days of China's reform, but the good times are over and it's being forced to recast itself.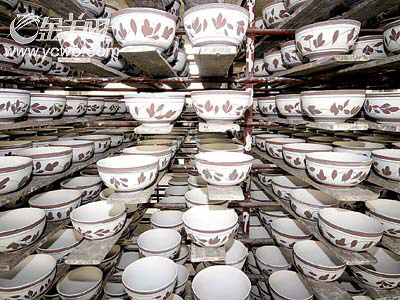 Foshan is famous for its ceramics. (www.ycwb.com)


With governments stepping up building infrastructures and a variety of enterprises in the late 1980s and early 1990s, Foshan, as one of the four Chinese cities traditionally known for ceramics-making, developed a bustling business in the trade. By 2005, there were more than 350 large-scale ceramic enterprises in the city with more than 1,000 production lines.

However, as the whole country attached more significance to sustainable economic development, local governments this year named the "seven sins" of the ceramics industry in Foshan.

They are severe pollution, energy waste and high emissions, shortage of resources, weakness in innovation, limited scale, poor self-discipline and a restricted international market.

Lin Yuanhe, a senior official in the Foshan government, met local ceramics makers in September to discuss their "sins" and how they could be remedied.

"There is no room for hesitation," he told the meeting.

Under a blueprint mapped out by the city government, Foshan's ceramics sector is in for a drastic reshuffle: 188 firms that meet new pollution and production standards will be allowed to remain in the city and 175 that cannot will be shut down or moved out of Foshan. The plan is expected to affect 100,000 employees in about 360 ceramic enterprises.

Some have already moved to other cities in Guangdong or outside the province since 2000. Attracted by competitive natural resources and markets, ceramics enterprises from Foshan invested up to 20 billion yuan in provinces, such as Jiangxi, Hunan and Hubei.

Ceramics businesses left in the city will focus on the high-end of industrial chain.

For example, a large industrial park has been established in the city. The park covers an area of 66 hectares, including two 500-year-old kilns, a lake and other natural sights.

Qiu Dailun, the developer of the industrial park, says it is designed to attract ceramics enterprises and designers as well as tourists.

Some other enterprises have also attempted to diversify their ceramics making to synthetic materials, such as Rostone.

And Luonan village, once a ceramics hub, is expected to develop into one of the largest sales centers for construction and finishing materials in the Pearl River Delta region after most of the ceramics firms exit.

According to local business people, the ceramics sector in Foshan was under great pressure even before the government made the decision to remold it.

The ceramics businesses have been facing soaring labor, raw materials and fuel costs, competition from other regions as well as shrinking overseas markets.

Coal prices jumped to 1,200 yuan per ton from about 800 yuan per ton at the end of last year. A medium-size ceramics enterprise consumes up to 350 tons of coal per day, which means an extra 140,000 yuan a day. Although declining from the peak, the prices are still around 1,000 yuan per ton, the coal costs have cut the profit margins of the businesses.

However, moving the ceramics businesses out of the city is a painful process for the enterprises, most of which are privately run.

An entrepreneur surnamed Cai says that when a ceramic company moves, less than 20 percent of the total assets can be re-used. "Among all our major equipment, you can take only mechanical presses with you and have to sell all the others as waste," he says.

At the same time, more businesses on the upper and lower end of the ceramics chain, including equipment producers, are at the edge of bankruptcy due to the shake-up.

Some enterprises argue the government should have left them more time for adjustment.

"We would like to know the government's point for our industry. How will it support ceramics businesses, a pillar industry in the city, during the reshuffle?" Liu Shenghong, the general manager of Caihong Ceramics Co, was quoted as saying by Win Weekly.

He says his enterprise would be able to meet all the standards listed by local government but that it was impossible to do so in the five-month deadline they were given.

Caihong Ceramics now says it will close its current plant in Foshan in 2009 and move to Jiangxi province but its logistics office is expected to remain in Foshan to take advantage of Pearl River Delta.

Yin Hong, secretary general of Foshan ceramics industrial association, also suggests that governments should encourage local enterprises to upgrade their production lines gradually instead of simply moving low value-added businesses out of the city.

Editor: canton fair