Large numbers of Hong Kong-owned factories across the border will be forced to close by Lunar New Year if banks continue to tighten credit, the Federation of Hong Kong Industries has warned.

Some 17,500 out of 70,000 Hong Kong-owned businesses in the mainland will be affected, according to federation chairman Clement Chen Cheng-jen.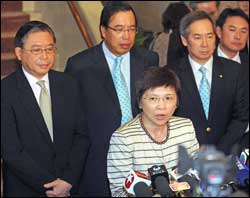 Amid the gloomy outlook for the economy, the government yesterday announced five rescue measures for small and medium-sized enterprises.

They are:

Hong Kong Export Credit Insurance Company will continue to provide cover for buyers' failure to take delivery of goods although other insurance companies have refused to provide such cover;

The ECIC will also freeze premiums for its insurance facilities;

Provide free buyer credit assessment for all Hong Kong exporters;

A shortened processing time in handling exporters' credit limit applications from five to four days; and

More seminars to share risk management experience and enhance understanding of the latest overseas market developments.

The measures were announced by Secretary for Commerce and Economic Development Rita Lau Ng Wai-lan after meeting with lawmakers and representatives from five major chambers of commerce and small and medium enterprises.

Chairman Chen said overall orders received at this time of the year have dropped 20 to 30 percent from 2007 and that some manufacturers have yet to secure any January orders.

These businesses are left even more cash-strapped as some European and American buyers have called a halt on Christmas orders - which is supposed to be a peak season for all industries.

An ECIC spokeswoman said most measures are already in place but they will continue to be enforced despite the rising risk in selling to overseas markets. Chen said a quarter of the 70,000 Hong Kong-owned factories in the mainland are facing critical refinancing difficulties and that manufacturers of labor intensive cheap goods are the most vulnerable.

"It is difficult to find new orders. We are not asking banks to increase the loan, but just continue to lend us money. Otherwise even those not going to fold up will be forced to close shop eventually."

SME Mentorship Association chairman Anders Wong Siu-leung said the service sector is as much threatened, if not more, because they have no goods to secure for loans.


Editor: canton fair