The Chinese University of Hong Kong (CUHK) opposes the construction of the proposed rail express between the Hong Kong International Airport (HKIA) and the Shenzhen Airport (SZA), owing to the low capital return and operational inefficiency.

The rail connection project was proposed in the policy address last year.

At present, high-speed ferries and coach buses take passengers directly from the HKIA to the SZA.

With these cross-border means available, the CUHK's Aviation Policy and Research Center harbored suspicions about financial viability and the demand for the express.

The center pointed out that it would take 11 to 15 years to see a capital return of just 3 percent on the express, and that excludes unforeseen costs, such as additional stops.

The timetable was based on the HK$30 billion to HK$50 billion cost estimate, and assumes an average annual passenger growth rate of 21 percent, tickets priced at HK$400 and that the ferry service will stop.

According to the Airport Authority, approximately 500,000 passengers used the ferry service last year.

The center's associate director, Law Cheung-kwok, said: "Even if all of them were transit passengers, and taking into account those catching coach buses, the maximum daily passenger flow would be only about 1,900. It would not be enough to support such a rail connection".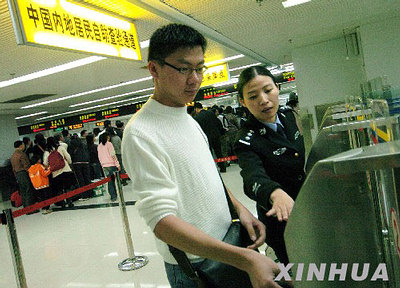 It is easy to go from Shenzhen's Luohu to Hong Kong. (Xinhua)

Meanwhile, the center found the demand for the rail connection will create a competition for passengers between other infrastructures, such as the Guangzhou-Shenzhen-Hong Kong Express Rail and the Hong Kong-Zhuhai-Macao Bridge.

In addition, the rail express may shake Hong Kong's position as the aviation hub of Southern China.

Since the SZA will construct a second runway in 2011 to handle more movements, passengers may opt for the SZA directly for its lower ticket prices and wider range of domestic destinations offered, Law explained.

"The SAR government should assess carefully whether the project can really achieve a win-win situation," Law added.

As such, the center suggested that the government explore cost-effective options to improve linkages between the two airports, such as using smaller but faster ferries and increasing the movements of the ferry service.

A feasibility study on the rail connection started earlier this year. The Transport and Housing Bureau (THB) said it has made good progress and is expected to be completed by the year's end.

The study would look into details such as economic benefits and overall transport-development strategies.

"Yet, on financial viability, it's too early to comment at this stage. We need to complete the consultancy study first," a THB spokesperson said.


Editor: canton fair