The first Textile Import & Export Center in Guangdong Province settled in Humen on July 29, 2008. This Center will provide exhibitions of fabrics and accessories and the up-to-date global sourcing information. All these will be benefit for the garment enterprises in Humen, provide convenience for international business, and link Humen with the world. This center located in 2/F of District A of Humen International Garments Trading Center, with more than 60 shops and a total area of 4000 square meters.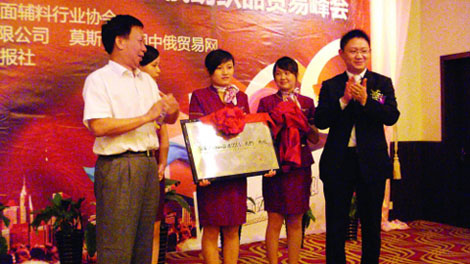 The Brand-conferring ceremony of the Textile Import & Export Center

On the same day, Russian Most Group signed a strategic cooperative agreement with the center. Companies and organizations such as The Korean Daegu Textile enterprise, American Cotton Incorporated, etc., also plan to enter this center, aiming to co-establish the GD Textile Import & Export Center (Humen).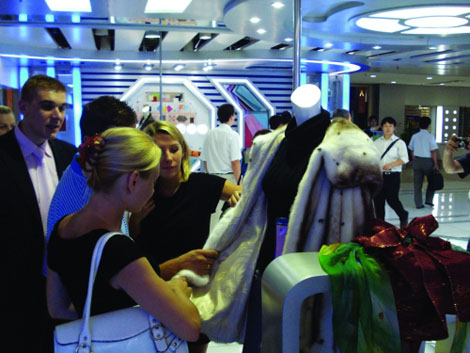 Russian businesmen happen to show the same interest in a mint coat exhibited in the center

"For lack of the effective approach to trade, cooperate and exchange with international textiles, the small and middle-sized textile and accessory enterprises in Humen have been in a passive position in information enquiry, marketing, trading and relative services for a long time. They do not know how to do international business while the domestic business is not easy to handle. Now with the establishment of GD Textile Import & Export Center in Humen, it will be easier for those textile enterprises to promote business worldwide with this perfect platform at hand.¡± One of the officials in the Economic and Trade Office of Humen Town Government told the reporter.

According to this official, the center will promote a more comprehensive exchange and cooperation between the international-brand textile and accessory suppliers and the garment enterprises in Humen. It will lift the whole image of brand-enterprises in Humen, and influence the market. It is also good for earning more shares in the world market for the operators, leading the textile industries in Humen Town and the whole South China area. In a word, it will add to the sustainable competitiveness of the garment industry in Humen.

Subject of entering¡ªforeign textile and fashion trading companies, etc

The GD Textile Import & Export Center is opened to the following subjects: foreign textile and garment trading companies, foreign-trade service organizations, famous-brand fabrics and accessories agencies, foreign points of purchase and service offices.¡± For this trade platform, all-direction information consultancy services including foreign trade regulations in various countries, the technology standard for general products, warehousing, shipping, export tax rebate, friction, risk aversion, etc. ¡± the person in charge said.


Editor: canton fair