Hong Kong Cathay Pacific said it plans to sell five Boeing 777-200 aircraft over the next two years to raise cash amid the global economic crisis.

The Hong Kong carrier's subsidiary airline Dragonair also will not renew leases on two Airbus A330-300 planes after their leases expire in June, chief executive Tony Tyler said in a message Friday to Cathay Pacific's staff.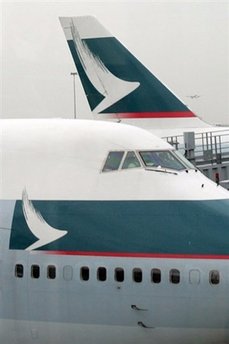 A Cathay Pacific Boeing 747 airplane gets ready to taxi at Hong Kong International Airport. (AFP/File/Laurent Fievet)

Cathay Pacific spokeswoman Carolyn Leung e-mailed a copy of the message to The Associated Press on Saturday.

Tyler cited the economic downturn as the reason for the sale and urged staff members to cut down on unnecessary travel and entertainment.

"The situation is currently extremely volatile, with banks not lending and people and companies not spending. There's no reason to panic, but equally we have to be realistic about the fact that things are not looking good," Tyler said.

He said it was not clear if Cathay Pacific could find buyers for the planes in the current economic climate, but if they do, "the cash will come in very useful."

Tyler said both Cathay Pacific and Dragonair hope not to cut their number of destinations, despite the recent drop in passenger numbers for both airlines.

The number of passengers for Cathay Pacific and Dragonair combined dropped from 2.13 million passengers in August to 1.88 million passengers in September, down 0.7 percent from passenger numbers in September 2007, according to the company.

"It's getting more difficult to push up revenue due to the softening passenger demand," Tyler said.

Hong Kong's international airport also recorded a sharp drop of 4.7 percent in passenger volume in September compared to the same month in 2007, according to the Airport Authority.


Editor: canton fair