The 6th China (Guangzhou) International Automobile Exhibition opens to the public today amid a tough time for China's auto industry but the debut of several strategic models showed car makers are still confident that the domestic market will continue to drive ahead.

Ford Motor Corp yesterday debuted its new Fiesta sedan, which is specially designed for a new generation of young Asian and especially Chinese drivers.

"Despite the slowdown and the global financial crunch, China's auto market continues to grow," said Wesley Liu, deputy general manager of Chang'an Ford Mazda Sales Co.

"We are confident that the 4-trillion-yuan (US$588 billion) stimulus plan announced by the government, including tax cuts, will have a positive impact on boosting domestic consumption and China is still on track to be the world's biggest auto market," Liu added.

Shanghai General Motors Co unveiled its Cadillac CTS-V luxury sedan, Enclave sport-utility vehicle as well as its Cruze mid-class sedan at the show. The Cruze, which will also be locally produced in China in the first half of next year, is among models that were developed from GM's global product platform.

Sun Xiaodong, deputy general manager of Shanghai GM, said the launch of the three models signaled GM's optimism in the auto market.

"Resources to be poured into the Chinese market will not be reduced even as GM is facing challenges in the global market," he said, adding another 10 to 20 models are planned for the domestic market in the next two years.

Among the new products launched yesterday, small cars boasting better fuel economy still shine as consumers are more savvy amid a drop in income and rising fuel prices.

Skoda, the Czech brand affiliated to Volkswagen AG, yesterday showed its Fabia in China. The car, featuring a 1.4 or 1.6-liter engine, will be produced by Shanghai Volkswagen Co. It will hit the market by the end of this year.

China's private car maker Geely Automobile Co launched its Panda subcompact, which costs from 41,800 yuan to 51,800 yuan. The 1.3-liter model consumes 4.9 liters of fuel for every 100 kilometers.

The auto show will run through next Tuesday in south China's Guangzhou.

Guangzhou Auto Delays IPO plans

Guangzhou Automobile Group Co, the Chinese partner of Toyota Motor Corp and Honda Motor Co, delayed plans for an initial public offering on slowing car sales and plunging stock markets.




"VIP-Lounge" concept car by Guangzhou Auto (www.dayoo.com)


"How could we sell shares in the current market situation?" General Manager Zeng Qinghong said yesterday at the 6th China (Guangzhou) International Automobile Exhibition. "We will choose a better time for the IPO when the markets turn around."

China's stock regulator has restricted approvals for IPOs to halt a 64-percent decline in the country's stock market this year. Growth in car sales in the world's second-largest auto market also slowed to 10 percent in the first 10 months.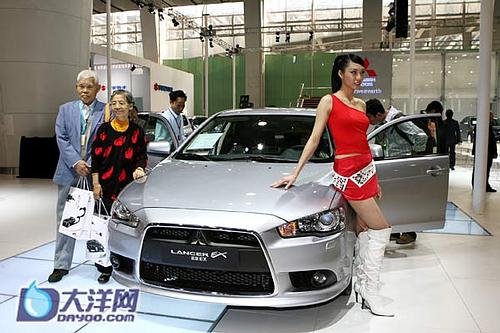 Lancer by Mitsubishi Motors (www.dayoo.com)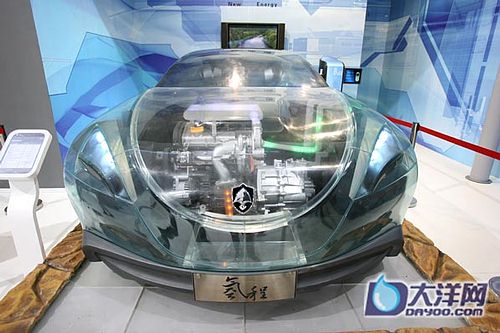 "Qingcheng" concept car by Chang'an (www.dayoo.com)



Ford Motor

Fiesta debuts

Ford Motor Corp yesterday debuted the world premiere of its Fiesta sedan at the 6th China (Guangzhou) International Automobile Exhibition as it aims to meet rising demand for small cars amid high fuel prices.

The Fiesta sedan, following an earlier introduction of the hatchback version, is the first Ford small car coming from the Ford Global Product Development System.

Developed from Ford's Verve concept car, the new Fiesta is tailor-made for the Chinese market, said Nigel Harris, general manager of Chang'an Ford Mazda Automobile Co.

The Fiesta will have a 1.4 or 1.6-liter engine. Domestic sales will start in the first quarter of next year.

Nissan Motor

Electric cars eyed

Nissan Motor Co, Japan's third-largest auto maker, intends to begin offering electric cars in China by 2012 as the country seeks to boost sales of fuel-efficient vehicles to cut pollution and oil usage.

"The government is interested in our plan because the environmental issues are critical in China," Yasuaki Hashimoto, president of Nissan Motor (China) Ltd, said at the Guangzhou auto show yesterday. "China is one of the most important markets for electric cars."

China has cut taxes on fuel-efficient vehicles to boost sales of less-polluting cars, and it also plans to back local auto makers' research into alternative-energy vehicles. Still, Chinese drivers have shunned hybrid vehicles so far.

Bentley

Sales to beat Japan

World's luxury car maker Bentley said China will surpass Japan to be its biggest market in Asia for the first time this year.

Andrew Smale, general manager of Bentley Motors China, said the company is confident to achieve a sales target of 500 units this year in China despite the challenges from the current global financial crisis. This will exceed the sales forecast of 350 units for Japan this year.

He said the Chinese market is now one of its fastest growing markets though it still account less then 10 percent of its global sales.

For the first nine months of this year, sales of Bentley rose up to 70 percent to 440 units on China's mainland and Hong Kong.


Editor: canton fair