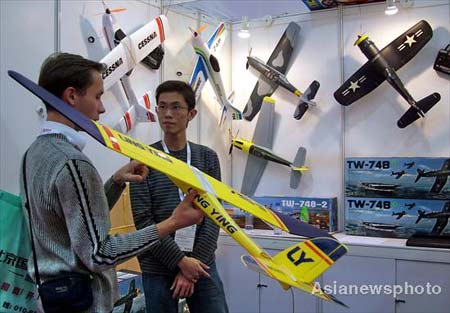 Plane models are on display during a toy exhibition in Shanghai in this file photo. [Photo: Asianewsphoto]

The rising yuan along with escalating production costs, drove half of China's toy exporters out of the market in the first seven months of this year, the General Administration of Customs said in a report Monday.

A total of 3,631 toy exporters or 52.7 percent of the industry's businesses shut down in 2008.They were mainly small-sized toy producers with an export value of less than 100,000 U.S.dollars.

Customs data showed 3,507 toy exporters still in business.

China, the world's largest toy exporter, saw a remarkable business slowdown as a result of rapid appreciation of the yuan, rising human capital and production costs and falling export rebates.

From Jan.to Aug. the country exported 35.29 billion yuan(5.17 billion U.S.dollars) worth of toys. That's up 1.3 percent from the same time period in 2007. However,the growth rate is actually 21.80 percent slower than that of last year.

According to the customs report, the U.S. credit crisis is part of the reason exports to the United States dropped 5.2 percent to 1.62 billion U.S.dollars in the first seven months of the year.

The General Administration of Customs also blamed small-sized toy producers for not adapting to policy and export environment changes.

Growing international trade protectionism is another reason the toy industry was hit hard, the report said.

"Last year was the most difficult time in decades for the Chinese toy industry," said the vice chairman of the China Toy Association, Liang Mei.

Western countries raised quality standards and issued several recalls on Chinese toys in 2007.

Liang said those standards forced domestic exporters to jack up production costs, thus driving many small-sized companies out of the market.

To repair the image of toys made in China, the country conducted special campaigns to improve quality and banned many unqualified companies from exporting toys.

Licenses of 600 Chinese toy exporters were revoked at the beginning of this year, according to figures provided by the General Administration of Quality Supervision, Inspection and Quarantine.


Editor: canton fair