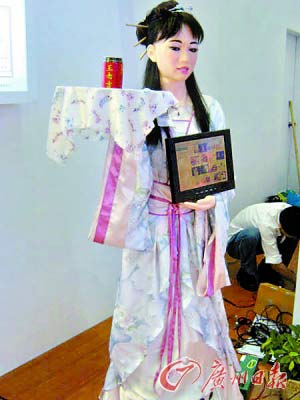 A beautiful traditional Chinese lady robot shows her skills in serving meals. (Guangzhou daily)

Quality of life is the main theme of this year¡¯s China Hi-Tech Fair in Shenzhen. The Robotics Pavilion, which features many types of service and entertainment robots designed to help people enjoy happier lives, has been the most popular attraction at the fair.

Some of the robots are for educational purposes and others are used for cleaning or security. Generally speaking, robots designed for entertainment can be as tiny as toys, while service robots are larger with more human features.

The prices of robots range from two thousand to several hundred thousand Yuan. The cheapest one, made in Shenzhen and hot in Japan, can clean a 90sqm room automatically without help. Also available is a Beijing-made robot the size of a fist which can imitate all the gestures of a human being, priced at 18 thousand Yuan. The more functions a robot has, the more expensive it is. If you want a robotic football player you could pay up to several hundred thousand Yuan.

According to the statistics, the number of robots has grown at a rate of 40% annually from 2003 to 2007 worldwide. Experts forecast that there will be 4.5 million service robots on duty by the end of 2009.

Editor: canton fair