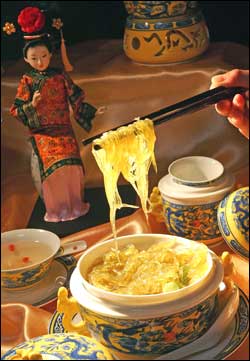 Face and tradition outweigh ecology when it comes to wedding banquets, according to the manager of a top restaurant chain.

"Only a few couples have requested we change the menu due to environmental concerns," Maxim's Group Cantonese Cuisine senior operations manager Raymond Wong Tat-fai said yesterday.

Wong said most newlyweds still asked for a traditional menu not only to accommodate the requests of parents, but also because they fear they will lose face if shark's fin soup and steamed coral fish are not on the tables during the banquet.

Shark's fin and coral fish represent extravagance and are considered a must for banquets despite the fact both are on the list of endangered species.

In February 2007, 20.4 percent of all sharks and related species were included in the World Conservation Union red list as being threatened with extinction.

Sharks are difficult to replenish because they grow slowly and their breeding rate cannot keep up with demand. In addition, it is hard to breed sharks in captivity as they are solitary hunters and prefer to act alone.

Although specially bred coral fish are now more common on banquet tables, it may be too late to preserve the wild coral fish. According to research conducted by Hong Kong University in June, the once- abundant yellow croaker has now disappeared from local waters.

"It is very difficult to change traditional concepts and we can only do it slowly," Eco Association supervisor Ivan Wu Chan-kin said.

Editor: canton fair