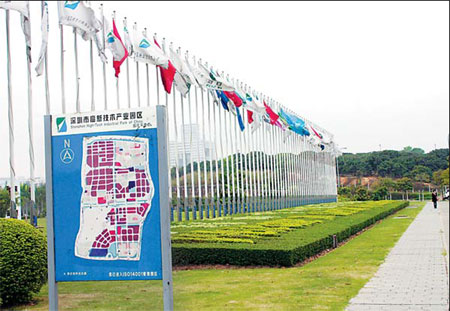 High-tech companies' flags fly in Shenzhen High-tech Industrial Park. The city's high-tech sector now accounts for nearly one-third of its GDP. File photo

Shenzhen has set its sights on strengthening cooperation with the neighboring metropolis of Hong Kong in order to promote further innovation in its booming high-tech sector.

Approved by the central government, the administrations of Shenzhen and Hong Kong signed an agreement on May 21, 2007 to build a "Shenzhen-Hong Kong Innovation Circle", which aims to pool their innovative resources, particularly in the field of technological innovation.

"Our innovative efforts will be influential in the global community, earn a prestigious status in the country and make a bigger contribution to the regional economy," Liu Yingli, deputy director and secretary-general of the organizing committee of China High-tech Fair, told a press conference yesterday.

The event was part of the ongoing month-long promotion activity held in Beijing by the Shenzhen local government to highlight the city's high-tech achievements in the 28 years since its establishment.

"We have taken advantage of the incentive policies of the central government to push forward technological and innovational cooperation between Shenzhen and Hong Kong," Liu noted.



The governments of the two sides are set to introduce new investment from Dupont, which will build a research center in Hong Kong and a manufacturing facility in Shenzhen for amorphous silicon (a-Si) thin film to support the rapidly growing photovoltaic (PV) solar energy industry.

"Our cooperation is constructive and proceeding rapidly. The new project shows that collaboration between Shenzhen and Hong Kong will help us win in the global competition for new investment," Liu Jin, deputy director of Shenzhen Bureau of Science, Technology and Information, told reporters.

The efforts of the two governments to promote cooperation between high-tech companies in the two cities are paying off, she added.

In 2007, the governments also set up a website to promote the sharing of the equipment, labs and professors at technological institutes in Shenzhen and Hong Kong, she said.

Apart from financial subsidies, the government of Shenzhen has paid much attention to nurturing high-tech professionals.

"Talented people have played a very important role in Shenzhen's economic development. We cherish talents and have improved our systems to allow them to fully demonstrate their abilities," Liu said.

The latest policy from the government is to finance 100 selected high-tech professionals with 1 million yuan each, which could be used for studying overseas, attending international meetings or employing assistants.

"There is no limitation in terms of age or required academic titles. The most important aspects are your achievements and technologies," Liu said, adding that the first batch of talents has been selected.

After 28 years of development, Shenzhen, once a small fishing village, achieved a GDP of 676.5 billion yuan ($99 billion) last year. Per capita GDP hit a record high of $10,628, No 1 among mainland cities.

The high-tech industry generated 219.6 billion yuan ($32 billion) in added value last year, which accounted for nearly one-third of the city's GDP.

This progress is thanks to the government's strategic focus on developing the high-tech sector. It organized the China High-tech Fair a decade ago, which has become the most important event in China for exhibiting and dealing in high-tech products, giving a great boost to the city's technological innovation.

As a result, some high-tech products manufactured by Shenzhen firms have been used in the stadiums, infrastructure and system management of the Beijing Games, said Liu, a former vice-mayor of Shenzhen.

Along with a special zone to showcase technologies for the Olympic Games, the China High-tech Fair, which will be held from Oct 12 to 17 at Shenzhen Convention & Exhibition Center, will also display some new technologies for supporting buildings in earthquake zones, said Li Zhen, director of China High-tech Fair Exchange Center.


Editor: canton fair