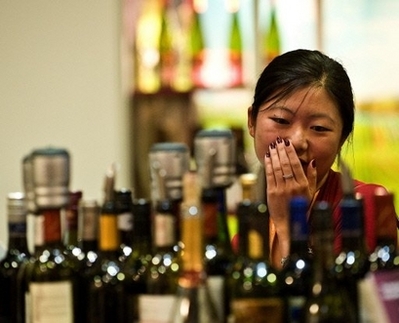 A woman gestures as she looks at an array of wine bottles on a stall at the first Hong Kong International Wine Fair on August 15. (AFP/Andrew Ross)

Just weeks after Hong Kong scrapped a 40 percent duty on wine this year, American entrepreneur and oenophile Stephen Bachmann flew here to investigate business opportunities.

This autumn Bachmann, who runs a fine wine company in San Francisco, will open a major storage facility in the southern Chinese territory in the hope of cashing in on Asia's booming appetite for the grape.

The former investment banker says that even before the import tax cut in February, almost half his company's business was coming from online buyers in Hong Kong and Macau.

"It was a bit like New York City suddenly coming online overnight," he says.

"Someone lifted a curtain and there was this gleaming city full of people who wanted to spend money on wine.

"I came over in March, which was just after the duty cut, and thought, well, here's an opportunity, let's do it now."

Bachmann's company Vinfolio was among 240 exhibitors here this week for the first home-grown wine fair in Hong Kong, which is keen to market itself as the gateway to China's growing middle class as well as a trading hub.

Asia's wine consumption has risen sharply in recent years and the trend looks set to continue. The industry projects annual growth in the continent of between 10 and 20 percent over the next five years, compared with one percent growth worldwide, with China leading the charge.

Gregory De'eb, co-founder of the Hong Kong fine wine storage company Crown Wine Cellars, says the former British colony's decision to abolish the duty is one of the most significant wine industry developments of the past 100 years.

"I would actually argue that Hong Kong is already the wine trading centre for Asia. Up to 23 percent of all wine sold at auction internationally is sold to Hong Kong buyers. But the effect (of the duty cut) has been dramatic," he says.

Much of the fine wine owned by wealthy Asians has traditionally been stored in London.

But since February De'eb says his company, which operates out of a former World War 2 munitions bunker, has seen a 300 percent increase in business as Asian wine investors move their collections closer to home.

"Within the first three or four days we had 10 container-loads of rare and fine wine confirmed to be shipped over. We had prepared by opening a second facility and are currently opening our third to cater for wines coming in," he says.

Hong Kong's status as the only major economy not to tax wine has also brought the world's auction houses to the city.

Earlier this year, US auctioneer Acker, Merrall sold more than 64 million Hong Kong dollars (8.2 million US) worth of fine wines in a single day, setting an Asian record. Bonhams has also held a wine sale here and Christie's is planning one in November.

Opening the International Wine Fair this week, acting financial secretary Carrie Lam welcomed the industry's swift response to the tax cut and hoped it would help Hong Kong businesses capitalise on rising demand in China.

But Don St. Pierre Sr, founder of China's biggest wine importer ASC, is sceptical about the benefits of using Hong Kong as a gateway to the mainland market.

"Hong Kong just adds an extra stop. You're still going to have to go into China and deal with all the bureaucracy," he says. "This whole thing doesn't quite add up to me."

St. Pierre has plenty of experience of the difficulties of doing business in China. His son, who now runs the company, was detained earlier this year and held by customs officials investigating wine importers. He was later released without charge.

Most in the industry agree that China remains a challenging place for the fine wine industry, not least because customs officials are legally allowed to take three bottles from any shipment for testing.

"That's fine if you're importing 200 cases of standard wine, but not if it's six bottles of '96 Lafite," De'eb says.

"The net result is the fine wine market in mainland China is not going to develop at all apart from consumption."

To get around this, the industry is lobbying for China to accept Hong Kong customs certification to avoid the need for additional border checks, although Chinese duty would still be payable.

For now though, most of China's growing number of fine wine buyers appear content to drink their investment rather than keeping it to sell on.

"They're huge buyers of classified growth, of the Latours and the Lafites, but they're not saving it," says St. Pierre.

"That market's all about showing off, going out with your friends and saying look, I've got an '82 Latour here, let's drink it."


Editor: canton fair