The consumer price index (CPI) in the southern province of Guangdong fell to a six-month low of 6.4 percent in July, the Guangdong Provincial Survey Office under the National Bureau of Statistics (NBS) said yesterday.

However, for the first time of this year, the province's CPI was higher than the national average of 6.3 percent in the same month as announced by the NBS on Tuesday.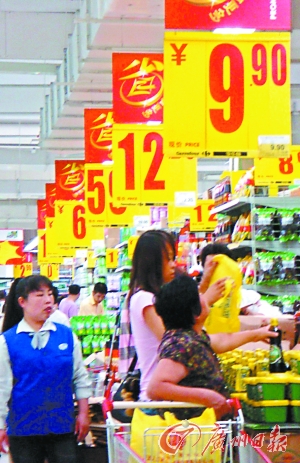 Analysts attributed the higher index in Guangdong to the unusual weather conditions, such as floods and downpour caused by typhoons in South China in the past two months.

"The unusual weather condition has helped lead to a slightly higher CPI in the province than the national index. Moreover, the local hot travel industry in summer is also a contributor," said Ding Li, a researcher with the Guangdong Provincial Situation Study and Research Center.

For example, vegetable prices, which were greatly affected by the recent typhoons in coastal areas, rose by 36.9 percent year-on-year in July.

The new CPI in the province was also 0.4 percent down from June, helping illustrate policy makers' efforts to curb high consumer prices, which started to climb last October.

Food prices, seen as a major contributor to consumer prices, rose 14.2 percent year-on-year in July, or 1.1 percent down from June.

However, the CPI's third consecutive monthly drop did not help hint a rebound of the index in the second half this year, the researcher said.

"The continued rise of producer price index (PPI) will gradually affect the consumer prices," said Ding.

Rising energy prices pushed up PPI in Guangdong in July to 5.7 percent year-on-year, or 1.4 percent higher than June, said the Guangdong Provincial Bureau of Statistics.

The PPI was also up 4.1 percent year-on-year in the last seven months.

"The PPI will pass on the rising costs onto consumers within a certain period of time. Thus, the fall of CPI is expected to rebound if the PPI continues to rise," he said.

As a result, the researcher said, it would be very urgent for local policy makers to adjust energy prices and maintain steady economic growth in the near future.


Editor: canton fair