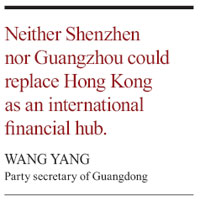 Guangdong will use 40 billion yuan to help Hong Kong-funded small and medium enterprises (SMEs) relocate their businesses, said party secretary of Guangdong Wang Yang yesterday.

He made the remarks at a meeting with more than a dozen Hong Kong media chiefs in Guangzhou.

He said more than 30,000 Hong Kong-funded SMEs have canceled registration in Guangdong so far this year, representing a 35 percent increase from last year.

To help the remaining SMEs deal with difficulties in their operation, he remarked that Guangdong would use 40 billion yuan to help them relocate.

The government will encourage the SMEs to move their businesses to the eastern, western and northern parts of Guangdong, he said.

In return, the enterprises agreeing to the relocation will receive electricity, water and transportation subsidies.

"Hong Kong-funded SMEs have a bright future in Guangdong," he noted.

Wang also acknowledged that Guangdong-Hong Kong co-operation is very important as the great achievement of the province after 30 years of reform is inseparable with the close co-operation with the city.

Meanwhile, he stressed that neither Shenzhen nor Guangzhou could replace Hong Kong as an international financial hub and added such status could benefit the development of Guangdong as well.

"Tightening co-operation with Hong Kong is still an important job for Guangdong as we are developing an innovation economy," he said.

As for the "through train" policy which allows mainlanders to invest directly in Hong Kong equities, he noted that the current global financial markets are not ideal for the implementation of the policy.

However, he added that the Central Government will give it some serious consideration nevertheless.


Editor: canton fair