Shop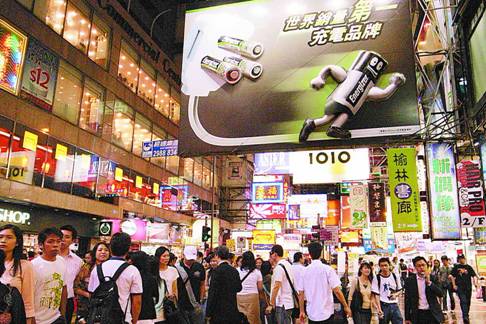 Hong Kong is still known as an excellent destination for shopping, especially of China-made goods. Prices are comparably cheaper than the US, Europe or Japan, especially with no sales tax on anything, though it's still expensive by Asian standards. The variety is a lot better than in most Asian countries. Popular shopping items include consumer electronics, custom clothing, shoes, jewellery, expensive brand name goods, Chinese antiques, toys and Chinese herbs/medicine. There's a wide choice of European clothing but prices are high.
As a generalisation, the Island has the fancy name-brand air-con shopping malls (particularly near Causeway Bay), while Kowloon is the place to go for cheap open markets. Kowloon also has Nathan Road with many shops selling electronics, cameras and gadgets, mainly to tourists. Some of the business practices there are quite deceptive and tourists and even locals are commonly overcharged. Compare prices before you buy. It would be safer to buy from large chain stores like Broadway.
some New Territories residents often shop for some things in Shenzhen just across the border into China.
• Shopping Centers
Hong Kong is full of shopping centers. Here are some of them:
1. Harbour City - Huge Shopping Center in Tsim Sha Tsui on Canton Road, to get there take the MTR to Tsim Sha Tsui, or take the Star Ferry
2. Pacific Place - also a big shopping centre. Take the MTR to Admiralty.
3. Festival Walk - A big shopping center with a mix of expensive brands and smaller chains. There is also an ice skating rink there. Take the MTR or KCR East Rail to Kowloon Tong.
4. Cityplaza - A similarly large shopping centre, also with an ice-skating rink. To get there, take the MTR to Taikoo on the Island Line.
5. Landmark - Many the luxury brands have shops here Gucci, Dior, Fendi, Vuitton, etc. Central, Pedder Street. It used to be a magnet for the well-heeled but has since fallen behind in management. One look at the toilets is enough.
6. APM - All new 24Hr Shopping Center in Kwun Tong. Take the MTR to the Kwun Tong station.
7. IFC Mall - Located near the Star Ferry and Outlying Islands Ferry Piers. Has many luxury brand shops, an expensive cinema and superb views across the harbour from the rooftop.
8. Times Square - a trendy but not stylish multi storey Shopping Mall with food courts at the lower levels, and Gourmet Dining at the upper stories. Take MTR to Causeway Bay, and exit at "Times Square". Crowded on weekends.
9. Citygate Outlet - Located right next to Tung Chung MTR Station, the Citygate is a rare outlet mall with tonnes of mid-priced brands, some of them being Adidas, Esprit, Giordano, Levi's, Nike, Quiksilver and Timberland.
10. Golden Computer Arcade - located in Sham Shui Po, this shopping center is specialized in selling computer and TV gaming related products. Take the MTR to the Sham Shui Po station. Other computer malls with better environment would be Star City in Tsim Sha Tsui just right on top of the McDonald's as you get out of Star Ferry; Windsor House Computer City in Causeway Bay; Wan Chai Computer mall right outside Wan Chai MTR Station; and Mong Kok Computer Center on Nelson Street 2 minutes from Mong Kok MTR Station Exit E2.
• Streetmarkets
Hong Kong has a lot of street markets. Some of them just selling regular groceries, others clothes, bags or even electronics.
1. Ladies Market - Find fake brand label goods here, or illegal imports. Other goods include clothes, toys etc. Make sure to bargain here!
2. Flower Market - Prince Edward
3. Goldfish Market- a whole street full of shops selling small fish in plastic bags and accesoires Tung Choi Street, Mong Kok
4. Bird Market - MTR Station Prince Edward, exit "Mong Kok Police Station". Walk down Prince Edward Road West until you reach Yuen Po Street Bird Garden
5. Jade Market
6. Temple Street - Situated in the middle of the yellow district, this is a place that sells anything from the Little Red Book to adult toys. Hong Kong is a really safe city, but this is probably one of the only places you might want to be more careful with your handbags.
7. Seafood Street - Sai Kung
8. Apliu Street - MTR Station Shum Shui Po, this is the place where you can find cheap computer goods, peripherals and accessories. However this would be the worst place to buy your mobile phones, they tend to be even more dodgy than small stores in Mongkok.
9. Stanley Market - One of the more touristy places, this market sells everything from luxury luggages to cheap brand name clothes (usually overruns from the factories). Accessible with number 40 minibus from Causeway Bay. Also, No. 6 and 6A bus from Central.
• Tourist traps
Just as in any city, there are certain areas with tourist traps. They are often nameless stores that sell electronics such as digital cameras, cellphones, and computers. However, the selling price is often overpriced. These shops can easily be identified with usage of attention-grabbing neon signs of electronics brand names, numerous employees in a very small store space, and often several of these stores in a row. There are many of these stores on Nathan Road, Kowloon and in Causeway Bay as well. If you are shopping for inexpensive electronics, head for a Broadway chain store, sometimes there may be discounts here (up to 5%) if you pay by cash.

Editor: canton fair