Aberdeen (Hongkong Island)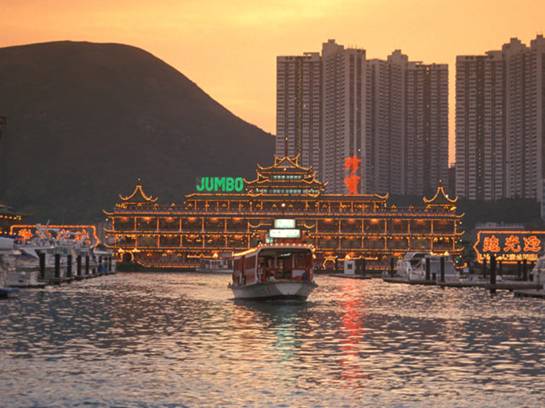 Aberdeen, with a population of more than 60,000 is the largest town on Hong Kong Island. The harbor here was once famous for being home to more than 6,000 people who lived on moored junks.
Many of these people today however, have moved on and up into high rises, and there are less boats in the harbor than previously. Nevertheless, it is still a picturesque and photographic place.
On arrival at the harbor, one of the numerous Sampan boat women will try and accost you and whisk you away for a sail. It is a fun thing to do and there are some great photo opportunities. These tours cost approximately RMB 50-70 per person for about 30 minutes, but this can be negotiated if there are more of you.
There is also a lovely Country Park here on the Aberdeen Reservoir Road. Tracks from the Park lead up to Victoria Peak.
How to get there: Take bus No.7 or No.70 from Exchange Square in Central. There are also boats from Lamma Island to Aberdeen harbor.
Happy Valley Horse Track (Hongkong Island)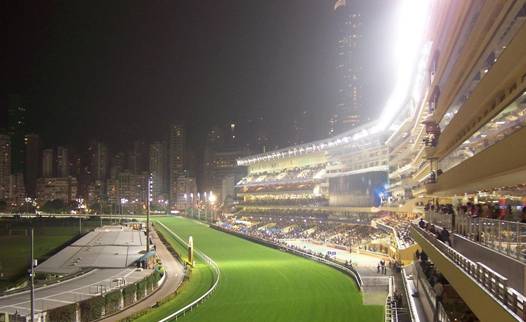 Happy Valley Racecourse is hugely popular during gambling season (September-June) with rich businessmen, holiday makers, locals and hard gambling addicts all throwing their money at the horses galloping around this famous track.
It is quite an experience to visit here, even if you don't take part in the betting. A racecourse was first built here in 1846 and before the one at Shatin was constructed, this was the only place to watch the horses in Hong Kong.
It is still a popular past time and the area around the course has recently been gentrified. The name of the district "Happy Valley" seems a little ironic considering that this was once a malaria infested district. There are many old cemeteries here commemorating those who died from the disease and also in the great fire at the racecourse in the 1920s.
How to get there: Getting to Happy Valley is easy. Take a tram marked Happy Valley from Central or walk to Huangniyongdao from Time Square of Causeway Bay subway station.
Hong Kong Convention & Exhibition Center (Hongkong Island)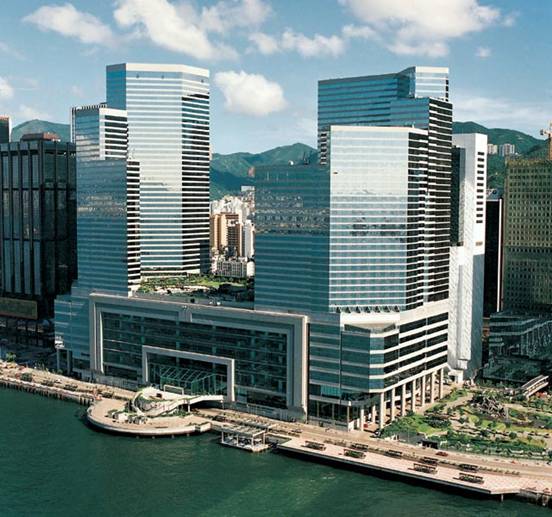 It is located in the heart of Wanchai and next to the Wanchai ferry Pier, the Hong Kong Convention and Exhibition Center is one of the newest and more impressive buildings to go up in recent years.
In fact, this is a fairly symbolic and important building as it was constructed to be the site of the 1997 hand-over ceremony.
Hong Kong residents associate the building's huge, wing-like roof with the island's capacity to take flight and advance into the 21st Century.
Besides functioning as a conference center and banquet hall, there are numerous offices, restaurants and theaters in the building.
How to get there:
1.Take Bus No.10A, 20, 21 from Zhongqu and get off at HuaRun Mansion.
2.You could get there in accordance with guidepost from A1 entrance of Wanchai subway station.
Hong Kong History Museum (Kowloon)

The Hong Kong History Museum is situated on Chatham Road in Tsim Sha Tsui.
This is a great place, especially for those interested in discovering something about Hong Kong's past. The colorful and well presented exhibits here present the history of the area covering the past 6,000 years.
There are some nice old colonial photographs and the exhibits are well labeled.
Opening hours: 10:00- 18:00; holiday: 13:00- 18:00; while free of charge when Wednesday and museum closed when Tuesday.
Costs: Adults and children HKD10
Hong Kong Park (Hongkong Island)

Hong Kong Park, tucked discreetly behind Central and the imposing Bank of China building, is one of the most charming and surprising areas in the city. This is a gorgeous and lush urban park, beautifully designed with modern fountains, bamboo and palm trees but also incorporating some fantastic colonial style buildings.
The Park sits in a dip and is sheltered by the huge tower blocks and mountains shooting up into the horizon that surround the area. The Park contains a lovely aviary, and the Museum of tea ware in Flagstaff House. Hong Kong Park also has over 2000 types of plant and there is a pottery and plate-painting center here too.
It is free to enter the Park and it's a gorgeous place to take a break from the high rises and hectic streets of Hong Kong. If you are lucky you may catch a glimpse of a bride as Hong Kong newly-weds love to have their photographs taken here.
Opening hours: The Park is open between 7am and 11pm everyday.
How to get there: From F Exit of Golden Bell subway station to Taigu Square, walking along the indication plate of the marketplace, then go up to 2F by elevator.
Hong Kong Space Museum (Kowloon)

The Hong Kong Space Museum has a fantastic location on Salisbury Road next to the Hong Kong Cultural Center and overlooking Hong Kong Island.
This is a fun place, especially for kids, and there are some good high tech exhibits including a Planetarium, a Hall of Space Science and an Astronomy Hall. The highlight of the museum is the Space Theatre.
This is a great globe shaped theatre with a domed roof. Space films are shown here several times a week (telephone 27342722) and it is wonderfully atmospheric.
Opening Hours: Monday-Friday 1pm-9pm and Weekends 10am-9pm. Closed on Tuesday.
Kowloon Mosque (Kowloon)

Kowloon Mosque is the largest and most important Islamic Mosque in Hong Kong. There is a significant Muslim community in Hong Kong, most of whom live around here in Kowloon. In fact the ethnic and cultural mix of people is partly what makes Kowloon an interesting area to visit.
The Mosque is an impressive pure white marble building, situated at the junction of Nathan Road and Cameron Road in Tsim Sha Tsui. This is an active working Mosque and visitors cannot just wander in off the street. For permission to enter the Mosque telephone 27240095.
Opening Time: 11:00- 18:00 on Thursday, and 15:00- 18:00 on Saturday.
Note: It provides dragoman service in the mosque, but you need to preengage.
Museum of Tea Ware (Hongkong Island)

The Museum of tea ware is located in the north side of Hong Kong Park and is housed in the area's oldest surviving colonial building, Flagstaff House.
In 1981, this former army commander's home was turned into a museum tracing the history of tea in the area and displaying various tea ware.
It's worth having a quick look in here if you are interested in famous Chinese tea and entrance is free.
How to get there: Get off at Daotaigu Square of Golden Bell station by subway, then walk along the indication plate in marketplace and take the elevator to 2F.
Ticket Price: Free.
Note: Closed on Tuesday.
Ocean Park and Water World (Hongkong Island)

Ocean Park and Water World are huge, fun entertainment parks which are great for kids or the young at heart!
The Parks are situated right next to each other and to the east of Aberdeen.
Ocean Park is an amusement park filled with roller coasters, slides, swings and other fairground rides. It's on a huge scale and a lot of fun if this is your thing.
There is also a sea life center here, complete with penguins, seals, sharks and killer whales! A cable car runs through the park connecting with the Middle Kingdom, a slightly naff collection of Chinese model villages, pagodas etc.
Directly next to Ocean Park is Water World. This is a massive aqua park filled with swimming pools, slides and diving boards.
Opening hours: The Parks' opening hours are 10am-6pm from Tuesday to Sunday and until 11pm in summer. Closed on Monday.
How to get there:
1. Take the subway and get off at Golden Bell station, then take 629 special bus to get to the Ocean Park.
2. There are the special buses at TianXing Dock of Zhonghuan Area, starting off one every 10- 30 minutes.
Costs: Ocean Park costs HK$165 for adults and HK$85 for children under 11.
Statue Square (Hongkong Island)

Statue Square is the large, open area linking the Hong Kong and Shanghai Bank with the Cenotaph on Chater Road. This pretty area is today filled with fountains and seats and on Sundays, it is usually bursting with Phillipino maids who gather here on their day off.
These young women and girls are usually working in Hong Kong illegally and have families and children of their own to support at home.
They meet up all over the city on Sundays and the numbers and noise are quite phenomenal. The base of the HKSB is another popular meeting spot.
The Square's statues were removed by the Japanese during WWII and only one, a bronze portrait of Sir Thomas Jackson, a former HKSB manger, has been returned to its original home.
The colonial domed building in the corner of the Square is the former Supreme Court and is now home to the Legislative Council (hence the name Legco Building). This is an attractive building which sits unobtrusively in an area otherwise dominated by modern designs. This 90 year old place is dwarfed but not overwhelmed, by the spectacular skyscrapers which look down on it.
Victoria Peak (Hongkong Island)

Victoria Peak provides the most famous views of Hong Kong. It is a must see for any traveler to the island and it's almost worth making the trip twice- once in daylight and once at dark.
The Peak has long been the most expensive and exclusive area of Hong Kong. Before the arrival of the Peak tram in 1888, the wealthy were carried up the mountain in sedan chairs. In colonial times too, this was the most prestigious district and many governors and business men bought extortionately priced houses up here, away from the smog and heat below.
Today, nothing much has changed and this remains The place where the fashionable and rich make their homes-snapping up houses at prices which are among the most expensive for real estate anywhere in the world.
It is not hard to see why this area is so popular when you reach the top. The views from the Peak Tower are truly spectacular and this is also a great place to get your bearings of Hong Kong and Kowloon. The Peak Tower stands at 400 m above sea level and was built to withstand all typhoons. This is where the Peak Tram terminates and the Tower contains various entertainment facilities (most are great fun for kids), shops and a few cafes. Check out the prices in the estate agents window in the Tower for property on the Peak if you fancy a pad up here!
Standing next to the Tower is the Peak Galeria. This is another complex filled with restaurants, bars, shops and even a McDonalds. Both these shopping complexes slightly spoil the area and it can be nice to take a walk away from the crowds and commercialism to the real peak of the mountain.
Walking half a kilometer to the west of the Tower brings you to the Old Governors Mountain Lodge and Gardens. This is actually the real Peak, situated 140 meters above the Tower. The lodge itself is a ruin today, but the gardens are very pleasant, offering an alternative to the tower but equally impressive view in a more peaceful setting. There are numerous paths and tracks around the Peak and this is a popular spot for jogging and walking with the ex-pats who live up here. A particularly nice walk is around and down to Hong Kong University. Walk west of the peak along Lugard Road and follow the path down hill. Finally, there is also a popular walk with locals slightly lower down the hill at Bowen Road. This route affords great views and eventually takes you down to Hong Kong University.
If you get hungry and thirsty up here, the Peak Cafe is a nice place to try. In summer, there are tables out the back with gorgeous views over the island bays and it is especially nice at sunset. The food and drink are good though expensive. The other restaurant that is good up here is Cafe Deco. This restaurant serve all kinds of international cuisine. Again, prices are not cheap, but the views (if you get a window seat) are spectacular.
How to get there and costs:
1. The Peak Tram goes up and down the mountain approximately every 10 minutes. It is a fun ride (although VERY steep) and takes about eight minutes. The trip costs HK$20 one way. Children and OAPs pay less.
2. or take No.1 special in the east of the grand auditorium.
3. Take No.15 double- decker bus at the terminal of the Exchange Square.

Editor: canton fair