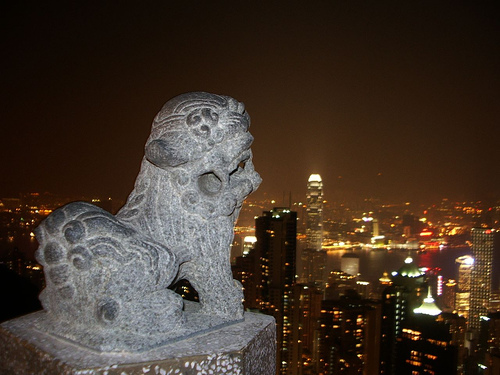 The area that compromises Hong Kong can be geographically and administratively divided up into three main sections; namely Hong Kong Island, Kowloon and the New Territories. On top of this, there are some pretty islands dotted around the coast of Hong Kong Island and Kowloon in the South China Sea.
Hong Kong Island is usually the starting point and the most important district for travelers.This is really the heart and soul of the city in almost every sense of the word; shopping, business, culture and politics all prosper here and it is this skyline that has graced the pages of limitless glossy magazines and postcards over the years.
The island is subdivided into several districts: Central, the business and financial center of Hong Kong where the Bank of China building dominates; Admiralty to the east of Central where you will find Hong Kong Park; Victoria Peak, affording panoramic views of the island; Wan Chai home to the Hong Kong Convention & Exhibition Center; Causeway Bay with a varied selection of shops and Sheung Wan and Soho, (home to the Man Mo Temple) where the streets are filled with antique shops and bars and restaurants.
Kowloon, a short ride away on the Star Ferry, is the area on the southern tip of the Chinese mainland. This is a large area, also popular with travelers who come here for the hustle and bustle of the shops and a variety of sights. This is a much bigger area than Hong Kong Island and can also be subdivided into different sections.
Tsim Sha Tsui in the southeast of Kowloon is the busiest and liveliest, home to limitless shopping malls and traders selling a variety of knock off goods along Nathan Road. Culturally and ethnically this district is rich, with a large Muslim and Indian population.
The Hong Kong Cultural Center is situated along the waterfront here and the promenade along the sea offers great views over to the island (as does as stay at the Peninsula Hotel, arguably Hong Kong's finest!). Mong Kok is the district to the north of here, with some good markets including Temple Market and Ladies Market.
Many Hong Kong residents, particularly the ex-pats have set up around the New Territories. The beaches here are pretty good and there is more open space than elsewhere in the area, although few sights and attractions as such and for the traveler this is a little far out to be convenient for a long stay.

Editor: canton fair